Ultramarine Command Squad
Pertinus Aemilius, Company Champion
Known behind his back as The Bull. Brave and self-sacrificing to a fault. He was censured twice as a Scout for engaging enemy sentries in protracted melee instead of silently dispatching them with his combat blade. The second such action resulted in the death of a fellow Scout when Pertinus' duel with an Ork sentry alerted an entire greenskin camp. He served five years penance for that failure. Shortly afterward he was placed with an Assault Squad, skipping the traditional placement with a Devastator Squad. Selected as Company Champion after fifty years as an Assault Squad member, the selection based purely on his skill with a blade. Pertinus Aemilius is not the smartest or most tactically gifted Ultramarine. He is stubborn and thick-headed, but unflinchingly loyal to his commander and battle brothers.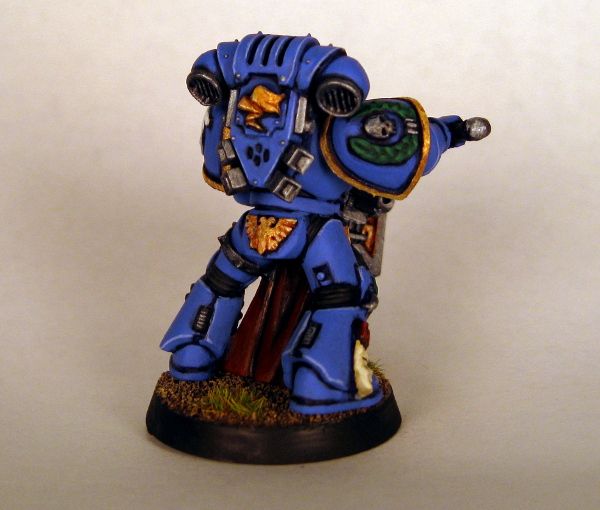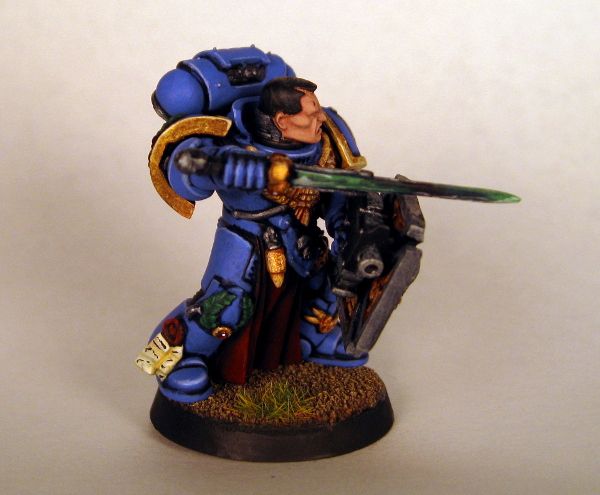 Numerian Castor, Apothecary
Apothecary Numerian Castor is a patient, deliberate Marine. While not a coward by any means, he takes very few risks. He knows his mission is to safeguard the Marines with whom he serves, and when necessary, their geneseed.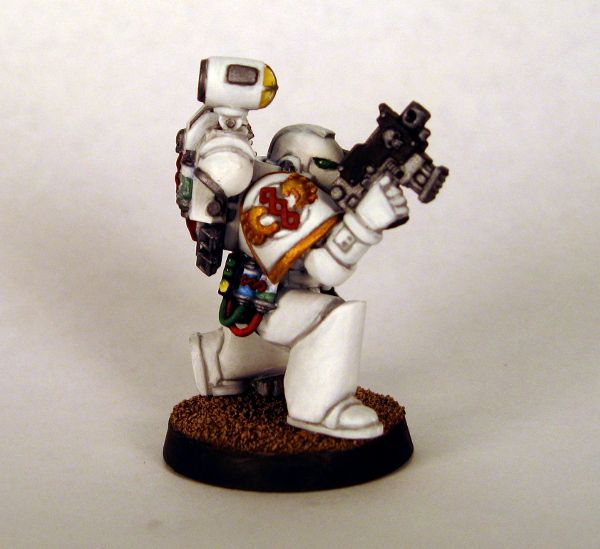 Marius Gracchus, Standard Bearer, "The Youngling"
Marius is one of the youngest Marines ever selected to bear a company standard. His youthful features and penchant for humor hide a warrior who is capable with a chainblade and a masterful shot with a pistol.
Thrax Gaios, Veteran
Veteran Brother Thrax Gaios is the squad's demolitions expert. He carries a meltagun, his bolter, and a satchel of meltabombs and grenades. He can toss a krak grenade into the vision slit of a moving tank at a hundred meters. Where the other squad members wear armor featuring ornate designs and decoration to reflect their veteran status and membership in the Command Squad, Gaios wears bulky, reinforced armor with little adornment. Because his armor is so often dented and scraped when he stands in the blast wash of exploding enemy tanks and fortifications, he has opted to forego ostentation in favor of smooth lines and heavy plating.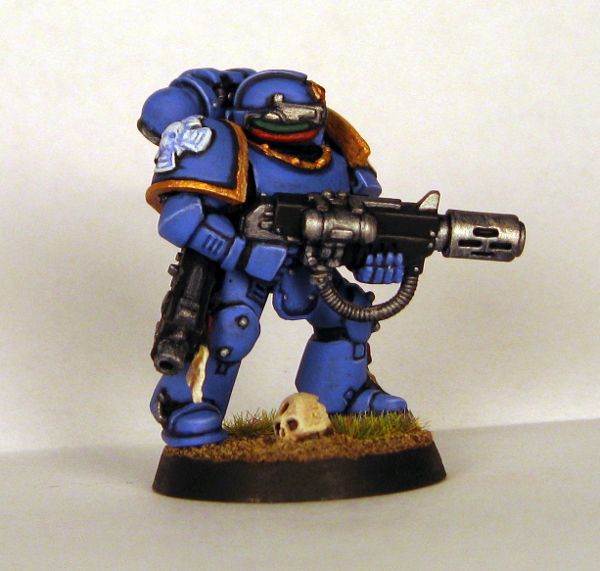 Flavius Felix, Veteran
Veteran Brother Flavius Felix is the oldest member of the command squad, and is fiercely protective of Numerian Castor. He has taken more than one bullet for the Apothecary, and his extensive bionics are proof of that. Castor ensures the scarred old veteran receives the best augmetics the Chapter's Apothecarion has to offer.