I just wanted to share a quick tip for refurbishing old models: acetone.
When I first started in the hobby, I was a poor waiter struggling to pay my phone bill, let alone buy models. As a result, I was turned on to eBay and secondhand models. I quickly learned how to remove paint and recover abused models, all for a fraction of the cost of new stuff. I no longer buy used models (I only buy bitz online, and all my new kits from the FLGS), but I haven't lost those salvage skills.
One trick I learned was the use of acetone. Any hardware store employee will tell you that acetone is a solvent and used for thinning paint or removing adhesives and glues. Any Poison Control Center employee will tell you it's perfect for removing superglue from one's fingers.
I have a love affair with metal models, and hoarded a ton of metal jump packs, seen here: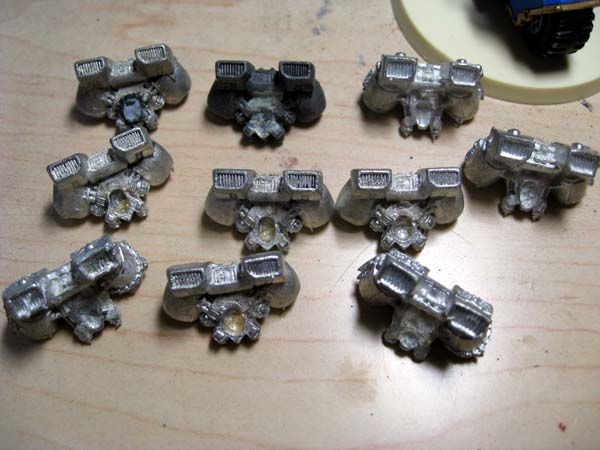 I stripped the paint off of most of these using a process involving Simple Green followed by overn cleaner. I'll cover that process in a later post. The problem with those two methods, though, is that they don't remove glue, enamels, or varnishes.
As you can see in the photo, some of these packs have significant amounts of old superglue, plastic, and general crud built up in the seams. The pack in the far upper left actually has part of a plastic torso stuck to it from when I ripped it off the unsalvageable Assault Marine. There's a ring of Testor's enamel paint around it, and a whole lot of superglue.
Enter the acetone!
Get yourself a small glass jar and a can of pure acetone. Don't waste your time with nail polish remover. It's actually cheaper by volume to go to the hardware store and get a small can of pure acetone.
Also, save yourself a disaster and do not use plastic jars, cups, or containers for this. Acetone eats most plastics almost on contact.
Fill the jar with your models and bitz, and pour in enough acetone to cover them all. Put the lid on tight and set the jar someplace no one will disturb it overnight.
Come back in the morning and open the jar. Pull out the pieces and rinse them off under warm water. All of the superglue and paint should have dissolved away, leaving you with fresh metal parts.
The jump packs are all now squeaky clean and ready for use by my Marines!
I wanted to show you what happened to the plug of plastic on the previously highlighted pack but as I was pulling it out of the jar, I dropped it down the sink. Oops! Acetone essentially reduces polystyrene (the plastic our models are made of) to the consistency of Silly Putty.
Never, EVER attempt to remove paint from plastic or resin models with acetone of any sort!