My new Apothecary is completed! Meet Numerian Castor...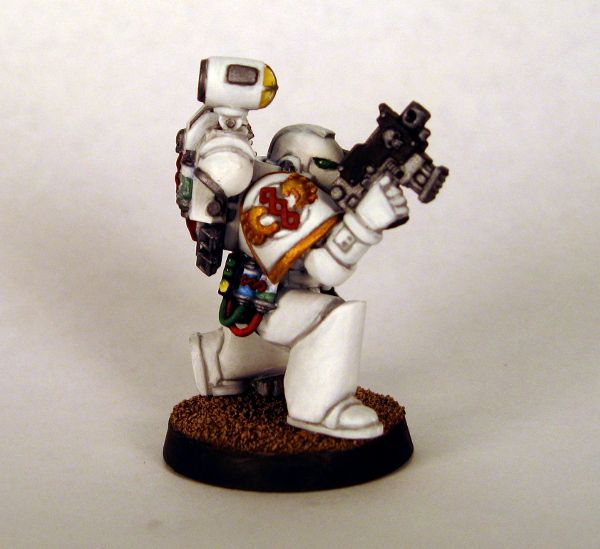 There are some small details I'm not a huge fan of, like the vials and the white dot on his main helmet optic. For the vials, I solved the color issue by simply drybrushing some white back over the colored 'fluid' in order to make it look like there was glass in front of it. Not perfect, but good enough. I messed up the location of the white dot in the main optic, and placed it a little too low and center. I might have to go back and touch that again with some red to shift it up and left where it's supposed to be.


I also noticed that I have a small grey dot on the back of his left foot, and that I forgot to clean up the painted-on sole texture. I also forgot to add the static grass to the base that will make the rock he's kneeling on look less like it's hovering over the sand.


Other than that, I think he came out well enough for a first try at all-white armor. As I'd mentioned before, I went about painting white in the most backwards way possible, with black primer, grey basecoat, and working upward. Should I ever do this again, it'll be white primer, grey wash, white touchups. I think I was afraid his blue, gold, and silver wouldn't match the rest of my army if I'd primed white. If I'm still afraid of that in the future I'll just paint the pad separate or touch the areas with black before painting them.

Here is Castor's bio from my initial writeup of the Command Squad:

Apothecary Numerian Castor is a patient, deliberate Marine. While not a coward by any means, he takes very few risks. He knows his mission is to safeguard the Marines with whom he serves, and when necessary, their geneseed.

I have already assembled the next model in the squad, the Standard Bearer.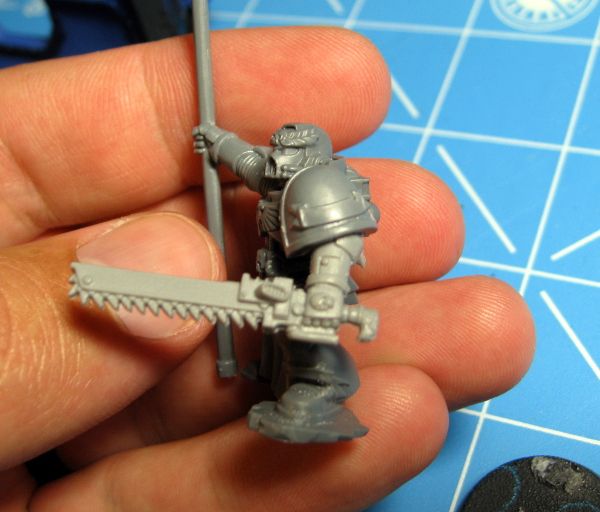 Pretty standard fare (pun partially intended). There's not a ton you can do with the banner arm, other than rotate the location of the banner itself around the top of the banner pole. I thought about using a super fancy chain sword from the Sternguard or Vanguard kits, but decided to let him use a basic version. His armor is fancy enough to put him in Command Squad territory. Too much decoration and fancy weaponry puts him closer to Honor Guard territory.

I'm not sure how I'll paint that banner. I recently saw a neat tutorial on using custom transfers for banners over at B&C, but that seems like a LOT of setup and materials for one banner. I'll probably leave the banner itself for last, in order to give myself more brainstorming time.