The monthly tournament at the FLGS didn't happen on Saturday. After a series of family-related delays, I called the shop and let them know I was running late. But when I arrived, not enough people were there to actually run a tournament. Bummer. I went home and dug holes for fence posts in the heat instead.
I was really looking forward to playing my bikes again, but no luck.
Attendance at FLGS monthlies has been very hit or miss for the year or so. Some months you'd see six, and others you'd see eight or ten. It's very disheartening as a player. My schedule just doesn't allow me to play on Wednesdays, and hasn't for a long time. I don't see that changing until this time next year. So, monthlies are my only chance to play, and they still require some serious effort and juggling to get to. Losing a day stinks!
I consoled myself with a little painting time on my Apothecary. Here's where he's at now: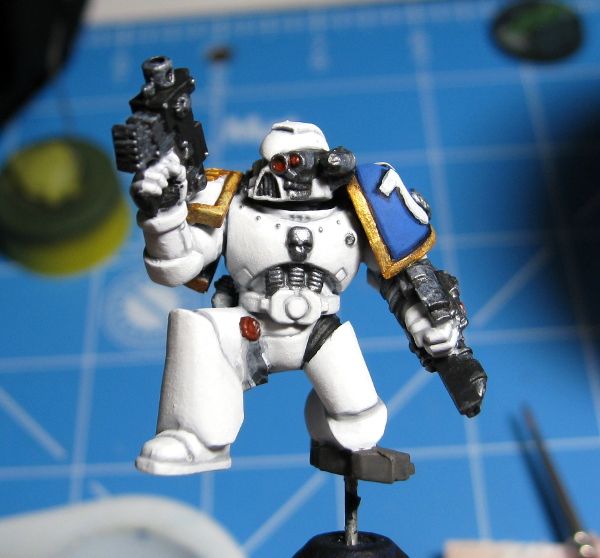 I screwed up several different spots on him. The vials on his backpack, hip, and narthecium aren't very good. It's tough to make them look like they contain liquid. A few of the tutorials I saw recommended adding small bubbles, so that's that the dots are. They did not turn out well. I'm thinking of painting over them.
I need to retouch the metals around his helmet targeter and the bottom of his vials, but that will wait until after I paint his lights on the backpack and helmet.
There's no texture under the left foot, so I painted it in with black and dark silver. I've got to go back in and touch it up some to make cleaner lines. The button lights on his belt gear and backpack aren't done, nor are his eye lens or the green power cables in various spots.
I'm torn on his right shoulder pad. It's a Ravenwing part, and the detail is very thin/low. Once primed, it was very hard to see exactly where each raised piece of the wings was. Painting the prime helix red was a fight, because from one angle it looked straight and clean, but turn it a little and the edges were ragged. All the result of small raised detail edges. Eventually I stopped fighting it and called it good. From arm's distance he looks good enough. My painting skill has atrophied in the last several months.
I'm once again toying with bothering to play the game anymore. I get that way when I'm in a valley on my depression scale. It's why I'm so fleeting in my projects and enthusiasms for 40K.
I'm hoping to have this guy done by the end of the week, and move on to the Standard Bearer. He'll be a challenge to paint, as I've never done a very large piece of multicolored freehand. I'm sort of toying with using custom transfers instead of freehand, but we'll see.