Just a smallish update today. I spent a little time working on the Sergeant, roughing out the shapes of his hand and arm.
First I got the fingers laid out, and a small wad of Brown Stuff pushed into place for the general structure of his arm/elbow. I like this better than a wire skeleton, as I know I can just rip it out of there if I really hate it.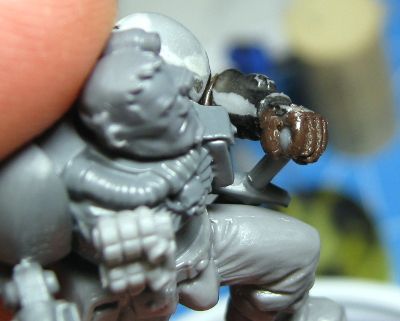 As you can see, really rough work, but I got the general shapes and dimensions in there. Then I started work on the arm/sleeve/elbow/whatever with Green Stuff, as it flows better than Brown Stuff. Brown Stuff is spectacular stuff, but it gets a little grainy when worked too much, and it's intended for sharp lines and sandable edges, instead of folds and curves.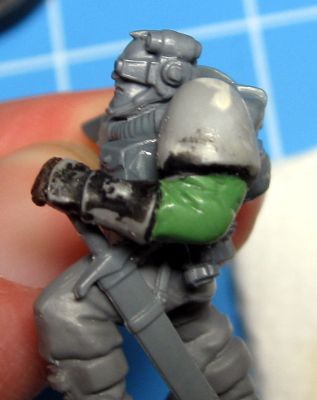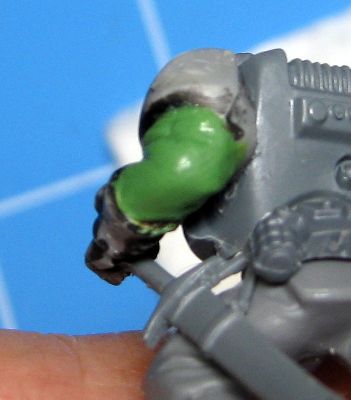 This is where the Sergeant sits as of now. I need to go back in and file his fingers smooth and then patch any low areas with GS. The one thing that's really bugging me is the side-on view of the arm. In the picture immediately above this text, the elbow and bicep area look fine. But in the side-on shot, you can see that the arm looks a little...puffy. There's an unnatural angle to the area right behind the forearm cuff of the gauntlet.
Can anyone suggest a fix for this? It sort of looks like I need to point the gauntlet upward more or something. I can't quite figure out what the problem is, and how to fix it.
Oh, and because
Khorne Inquisitor asked about on his blog
, here's a picture of my blotting/wiping towel, though this one is relatively fresh.